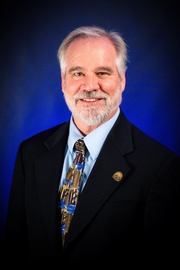 Thank you guest Jon C. Haass, Ph.D. | Director, Center for the Future
Dr. John Hass spoke about technology on several fronts, including Blockchain & Bitcoin technology.
Taken from centerforfutureprescott.com
Jon Haass has been the visionary leader for the Center since first introducing the concept in late 2016 as a natural consequence of the rapid growth of technology innovation at Embry-Riddle Aeronautical University where he serves as a Professor of Cyber Intelligence and Security. A serial entrepreneur, he came to Prescott in January 2013 to start the degree program that has rapidly grown, and been designated a National Security Agency (NSA) / Department Homeland Security (DHS) Center of Academic Excellence.
In prior roles he has been CEO of an encryption company, VP of Business Development at Sendmail (acquired by Proofpoint), VP Software Products and WW Marketing at OpenTV (acquired by Kudelski), Group Product Manager at Sun Microsystems (acquired by Oracle) where he has grown business lines, raised capital, and developed innovative solutions. He started his 2nd company LaserPlot while a CLE Moore Instructor at MIT where he received his Ph.D. in Mathematics.
He loves speaking to groups, publishing papers and books, and creating new ways to help the next generation succeed. The Center will be a transformative engine for economic vitality for the greater Prescott region with next generation technologies and the brilliant innovations of the areas young people.
Roadside Cleanup Saturday, October 23rd
Thank you to Doug Ficke for organizing a fun and successful roadside clean up with Sunup Rotary and the Interact club.
Sunupians Doug Ficke, Mayor Phil Goode, Donna & Ray Jacobs, Greg Bartstad, Lisa DeLeo, and Interact Members: Cathleen Cherry, Lorna Pierie, Joslan Mann, Ainsley Willison, Areli Martinez-Aviles, Leia Augustine

Jazz From the Heart Prescott Sunup Rotary Foundation Fundraiser
Friday, February 11th, 2022
6PM - 9PM
Hassayampa Inn - Marina Room


Our Annual Fundraiser will take place Friday, February 11th @ Hassayampa Marina Room. Cash Donations or items for silent auction are needed. Contact Donna Jacobs thejacobs789@gmail.com or Jane Anne Shimizu jashimizu@gunsite.com for more details.

Digital files of donation forms have been emailed to you. Let us know if you missed it.
Sunup Rotary Club, a 501(c)(3) organization, is seeking community support for sponsorships, donated items and/or services. Raffle drawings, as well as live and silent auctions will be featured throughout the evening.

Proceeds of this event will provide scholarships to worthy, local area high school students, as well as directly enrich our youth in Yavapai County.
We rely largely on the generosity of our friends and businesses in our community.
We appreciate your support and belief in our mission to improve the quality of life for the children in our community.
With deepest gratitude,
Sunup Rotary Club
P.O. Box 2033
Prescott, AZ 86302
Thank you for participating with donations and spreading the word!
CLICK HERE FOR DOWNLOADABLE DONATION FORMS
November is Rotary Foundation month and District 5495 will be hosting two great events to celebrate.
Saturday Nov 20: Rotary Foundation Education Day, 9:00am to Noon
Join live via Zoom. Watch for the link on the District website under the Rotary Foundation tab.
All Rotarians are welcome to attend. Encourage your fellow club members to learn more about our Rotary Foundation.Learn about Rotary Foundation Programs and Grants. Get the latest updates on PolioPlus around the world. Gain ideas on how to increase Rotary Foundation giving in your club. And much more!

Sunday Nov 21: Rotary Foundation Celebration Luncheon, 11:00am to 2:00pm
Arizona Broadway Theater, 7701 W Paradise Ln, Peoria, AZ 85382
Lunch with great Rotary fellowship.
Inspirational updates on Rotary Foundation projects - See how your donations are being used to do good in the world and in our own back yard.
Fun and lively entertainment. Recognition for significant donors to the Rotary Foundation.
Register Today
$45/person - Note registration if limited due to space so register soon.
I hope to see everyone there.
Charlie Tegarden, District Rotary Foundation Committee Chair, Rotary District 5495
Mark your Calendars!
Join us for our Sunupian Holiday Party
Wednesday, December 8th 5-8pm
Hassayampa Inn's Marina Room
Delicious Dinner and Refreshments $50 per person.
Looking ahead:
Cruise In for Vets will take place May 14th. Prescott Mall near Texas Roadhouse 3310 Gateway Blvd, Prescott, AZ 86303 http://cruise4vets.com/
Did you miss the Career and Technical Education Center tour? Stay tuned for another date coming soon.